Get Fast and Safe to Your hotel, with Cancun Airport Transportation.
"Cancun Airport Transportation" by Feraltar is a company authorized by the Cancun International Airport for transfer to different destinations of Cancun Hotel Zone/Downtown, Playa del Carmen, Tulum and the Riviera Maya, our service is reliable, fast and secure.
At Cancun Airport Transfers by Feraltar we have the best prices online, with qualified and bilingual drivers, vehicles of recent models These are just some of the reasons why our company stands out from our competitor's due to our high rate of customer satisfaction, we are the largest and best Cancun Transportation company. Some companies see their passengers as a number, our main objective is to assure you the best personalized Cancun Airport Transportation for you, your family or colleagues will receive the best comfort and safety during your Cancun Transportation service to your destination.
Our representatives are specially trained to provide better support on your arrival at Cancun International Airport so you do not have to worry about anything. Lastly, please note that we will take care of you and yours and we are the only ones who know how to pamper you with our luxury shuttle services and convenience in your Cancun Airport Transportation to your hotel or arrival point.
Excellent Service! I want to thank you to whole team Cancun Transfers, Me and my family enjoy the trip without worrying about schedules and drivers were always on time and the vans are very spacious and comfortable, thanks especially to our drivers who took us safely and very helpful, I will recommend to all our friends! We hope to return soon!

Lauren Sacks
Here is a list of our exclusive transportation services: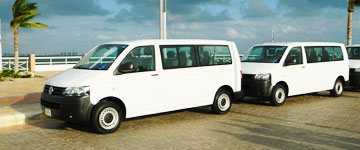 The Shuttle service is designed for people traveling on a tight budget, and is available from $9.00 USD, however this service is not available for all destinations.
In this service you'll have to share the vehicle with up to 10 passengers, this Cancun Transportation service is available from 8:00 AM to 8:00 PM only. Need at least two passengers to offer this service, once we have the two passengers there is a waiting time of 1 hour or until filling the unit with 10 passengers, whichever comes first. The price of this service is per passenger
This service include:
Available from 8:00 a.m. to 8:00 p.m. only
Share vehicle with up to 10 passengers
Shuttles depart every hour
Minimum 2 passengers to depart
Multiple stops - Up to 4 stops
Meet & Greet at the airport
Professional Drivers
24 hrs. customer service in Mexico
No fees for flight changes
100% refundable 24hrs. prior to service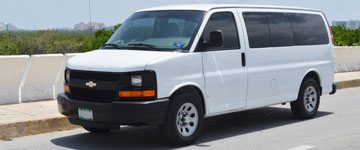 Private Transportation
The Private Transportation is on board off a new vehicles with air conditioning. Remember that taxis are not available at the airport, if you need a taxi, this is your best option because it is a private service but at a low cost. The van can carry up to 7 passengers. The Cancun Airport Transfer service is available to all major destinations / hotels in Cancun, Playa del Carmen and Riviera Maya.
The Private service is available 24 hours a day, no waiting time, no lines, departs to your destination as soon as you board the vehicle. This is a direct service, without additional stops.
This service include:
Private Van with A/C
Meet & Greet at the airport
24 hrs. customer service in Mexico
100% refundable 24hrs. prior to service
Travel insurance
All applicable taxes & airport fees
Guaranteed Baby Car Seat
Flight monitoring
Professional bilingual driver
24 hrs Cancun Transportation service
No fees for flight changes and delays
Spacious vehicle for passengers and luggage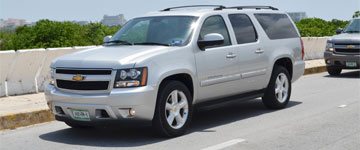 VIP Transportation
This service is on board of one of our luxury Chevrolet Suburbans, leather interiors, DVD and A / A. This service also includes amenities such as water bottles and wipes and all this at an incredibly discounted price. The Chevrolet Suburbans can lead to a maximum of five passengers, so if you travel in a small group and want to get to your hotel in total comfort this is definitely your best option.
When booking this service you will have the opportunity to book the VIP Lounge at a special discounted price.
This service include:
Luxury Suburban
Amenities included
Meet & Greet at the airport
24 hrs. customer service in Mexico
100% refundable 24hrs prior to service
Travel insurance
All applicable taxes & airport fees
Guaranteed Baby Car Seat
Flight monitoring
Professional bilingual chauffeur
24 hrs Cancun Transportation service
No fees for flight changes and delays
Spacious vehicle for passengers and luggage